Once a price has been agreed to, I can invoice you via e-mail. Payments may be made by electronic check or credit card via Square or PayPal. Credit card payments can also be handled in person. I also have an Etsy shop for ordering the small prints and cards: ArtOfCathleenPalumbo.

Payment Plans are available. Do you love a painting but can't afford to pay all at once? We can agree to a schedule for payment and I'll hold the painting pending payment in full.
Original Paintings & Drawings

I'm happy to arrange an appointment at my studio. All paintings and drawings are on surfaces that have been prepared with archival substances. Most prices listed are gallery prices. Discounts may apply. Prices listed do not include tax, shipping, and insurance. All sales are final.

Call me (505-927-6210) or write (info@cathleenpalumbo.com) for an appointment or quote.
High Quality Reproductions

Archival prints of many paintings are available.  Prints are numbered, signed, and include a Certificate of Authentication.
Pricing for these high quality, archival reproductions are based on size, generally from $75 to $500.
Pricing does not include tax, shipping, and insurance.

To order call (505-927-6210) or write (orders@cathleenpalumbo.com) for a quote.
Poster Style Prints of The Faces Series

The series is on going. For every consecutive 10 paintings, I make a poster. So far, six posters have been created, each containing ten paintings.
Printed on archival paper, these poster-style prints are available in four sizes:

5" x 7" ($5)
8" x 10" ($10)
11" x 14" ($15)
16" x 20" ($20)

Pricing does not include shipping.

Faces 1 through 10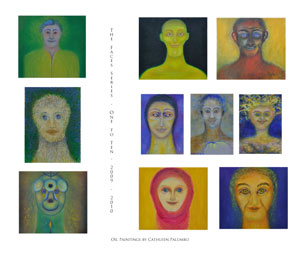 Faces 11 through 20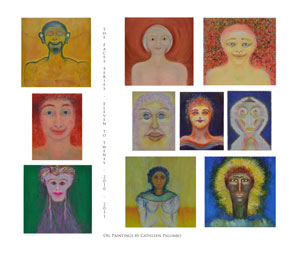 Faces 21 through 30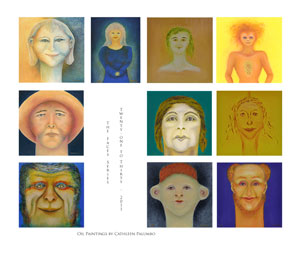 Faces 31 through 40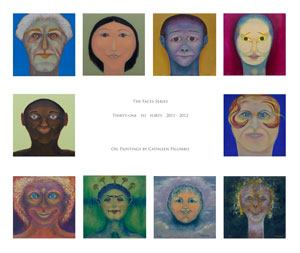 Faces 41 through 50
Faces 51 through 60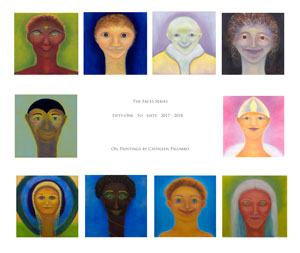 Small Prints

Archival prints in a small format -- 8.5" x 11" -- for $25 per print plus shipping costs. These paintings are professionally photographed and printed.

The paintings shown below are available. All of the Faces Series are available. Other paintings may be available, so check out my web site and let me know if you see something you would like.


















Cards: professionally reproduced and printed
on archival paper 5.5" x 7.4" cards in sets of 5
for $25 plus shipping.

Set #1 - El Rito Series
Set #2 - Sampler - A Magpie Dreams a Nest,
Beyond Fear, The Center of My Galaxy,
The Seasons Out My Backyard, You Are Here
Set #3 - Tree People Series
Set #4 - Plum Island Series
Set #5 - Fossil Cells of the Self (5 cards)

or 5 cards of one of the above

or combinations of your choice of 5
To order call (505-927-6210) or write (orders@cathleenpalumbo.com)
Enjoying Art Book
For more information about the book see the Books & Prints page.
Available through Amazon.com for $9.99 or directly from me for $7.99.