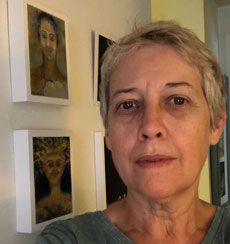 I was raised in Leadville, Colorado.  Home of the highest mountains in Colorado.  Beauty is embedded in my senses and the landscape was one of the greatest joys of my youth.  In those days, I'd color and paint abstract pictures.  Color was most important to me.  I left home at 18 and moved to the Philadelphia area.  My desire was to live independently, to be where it was green, and experience something new.

Art was shelved and I worked as a secretary, a paralegal, an office manager, and eventually had my own company computerizing law firms.  After 18 years of work, I felt empty.  A big hole deep inside that cried out for something richer, something elemental.

I walked out over the edge and began a long journey that was full of pain, destruction, renewal, and encounters with new places and people.  I lived on the Upper West Side of Manhattan for three years and fell in love with a city for the first time.  In those years I began to draw again as a cathartic way to cope with difficult situations. Images would come to me as I drew.

I landed in Newburyport, Massachusetts, in 1993 with little left of the person I thought I was.  Newburyport is where the Merrimack River meets the Atlantic Ocean.  Just across the causeway is the Parker River National Wildlife Refuge on Plum Island. It is a barrier island about ten miles long.

After a few months I realized I needed to master the tools of making art in order to express what I felt and saw.  So with no idea of how in the world I would do it, I applied to Montserrat College of Art in Beverly.  Some of the happiest days of my life were in art school.  At the age of 38, everything was so full of meaning and new discoveries unfolded with spectacular delight.

In the summer of 1996 I took a school trip to Viterbo, Italy - about 60 miles north of Rome.  It was two months of exquisite experiences.  During this time I began working on the arch image which is a recurring theme in my work.

Starting in 1998 I had the good fortune to spend a few weeks or a month each year at my friend's place in Lamole, Italy - about 45 minutes south of Florence.  A part of my heart still resides there.  At certain times of the year, I can get confused about where I am for I suddenly feel myself in a particular place, all the details as vivid as if I were there.  The colors, the light, the smells, the temperature.

I migrated from Newburyport to Rockport to Essex to Ipswich.  Ipswich is home to Crane Beach, another barrier island just south of Plum Island.  This beautiful crescent formed by water was so much a part of me I could never imagine living anywhere else.

In 2009 events occurred that propelled me into many changes.  I made a cross-country trip from the coast of Massachusetts to Northern California and back again that year in search of the perfect place to settle.  By the time I descended into Death Valley, exhilarated by the landscape, feeling that I was flying and also at the bottom of the ocean, my attachment to the ocean melted away.  

I found myself drawn to Northern New Mexico.  In 2010, I closed down my life on the east coast after 36 years and eventually landed in El Rito, New Mexico, about 50 miles north of Santa Fe.  In 2016 I moved to Taos.

There is a hidden magic out here in the high desert.  In many ways it feels off the map.  I love the people, the way of life, and the magnificent landscapes.  Now a whole new world awaits discovery.